7. The Laser Eye Surgery Was Such A Rip-Off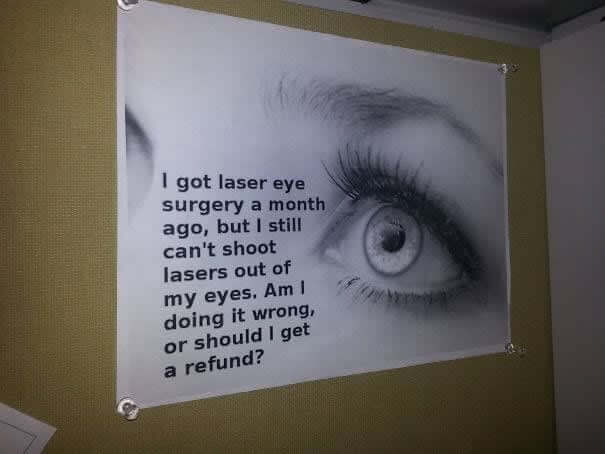 Everyone wants to be able to shoot lasers out of their eyes like a superhero. The obvious way to achieve that is to have laser eye surgery, right? That is the procedure where they put laser beams in your eyes, or are we getting confused? Well, if you can't get the power to shoot lasers, at least you no longer have to struggle with glasses and contact lenses. Having a perfect vision is almost like a superpower in some ways. You can brag about how much better you can see than all your friends.
8. When You Ask For Water And They Bring It To You In This Cup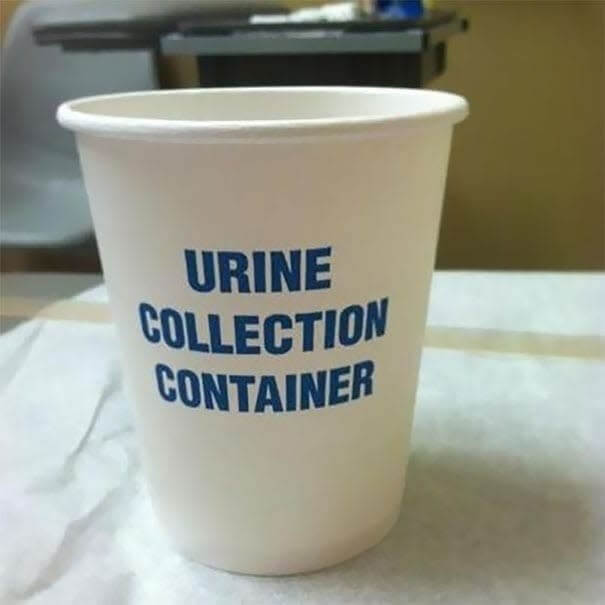 When this person went to get their blood drawn at the lab, they asked for a cup of water. They did not expect the nurse to bring back a cup that said "urine sample." We would be wary of drinking whatever is in that cup. Wouldn't you have trust issues it the nurse gave that to you and expected you to believe it was really water? What if she thought it was water, but someone happened to be very hydrated that day. They should have separate cups for water and pee.
9. When You Mistake Builders Expanding Foam For Your Hair Mousse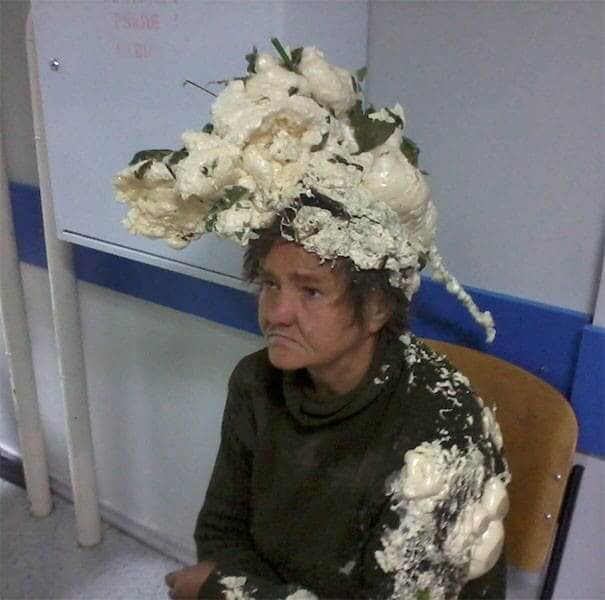 We have never seen someone more over life than this woman. We don't know if she needs a doctor or a hairdresser more, but we know she needs a stiff drink and a reset on the day. It must have been quite embarrassing to explain this to the ER nurse when she walked in. To be fair, who leaves hair mousse sitting next to the builder's expanding foam? Those two should not even be in the same room, let alone sitting right next to each other. At this point, she should just shave her head and rock the buzz-cut look.
10. Every Time Someone Comes In With A Fish Hook The Hospital Puts It On Display
We didn't know how common fishing accidents were until we saw this wall of fishing hooks on display in the ER. Every time someone gets stuck on a hook and comes to the hospital, they save it and display it in the hallway. Imagine if you were a repeat offender, you would be famous at this hospital. You probably thought that hooks were only used for catching fish, but they can also catch people. If you are looking for a life partner, you could just go fishing for one, and you might meet your person in the emergency room.
11. Runaway Leech Caught On His Way To The Blood Bank
This leech got sick of the AB+ blood it was feeding on and decided to head to the blood bank for some tasty O-. This leech prefers his blood from a universal donor. How long did they let the leech go before putting it back where it belonged? If you didn't know, leeches are still used in modern medicine to help improve blood flow after constructive surgery where there is poor circulation. The leech removes clotted or congested blood from these delicate areas. They have been used since the times of ancient Egypt.
12. This Is What They Teach You In Med School
This is probably the last book you would want to see in your doctor's waiting room. We are pretty sure that doctors take an oath to do no harm when they get the medical degree, but that hasn't stopped a select few. At least he is reading about how not to kill people. It is always comforting to see doctors trying to improve their skills and become the best in their professions. Imagine looking this book up on Amazon, and a doctor left a review saying, "one star, did not work, had several patients die."