7. Sagano Bamboo Forest, Japan
The bamboo forest found in Western Kyoto is one of many reasons why you should strongly consider visiting Japan.
By simply looking at the picture, we can hear the enchanting sound created when the wind blows against the bamboo forest, can you?
8. Wisteria Tunnel, Japan
There is no denying Japan has so many breathtaking places and it is surely among those places that can mesmerize you within seconds.
Whether you want wedding shots or just a romantic time with your lover, it is a place for you to go.
9. Zhangjiajie Stone Forest, China
We know you are thinking is this place from the famous movie Avatar? Well, we thought it as well.
Ever since the release of famous movie Avatar, the Zhangjiajie Stone Forest has become more famous and has been renamed "Avatar Hallelujah Mountain."
10. Pongour Waterfall, Vietnam
Located in a deserted area, approximately 50km south of Dalat, the Pongour Waterfall is known for producing sonorous sounds that could be heard miles away.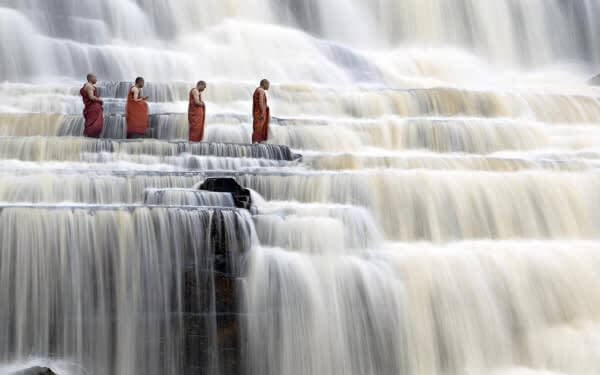 This waterfall is so majestic that you cannot make the mistake of not going to this place. We only live once!
11. Kawasan Falls, The Philippines
As the picture suggests, this is a place to spend quality time with your family and friends. Or you can go there just with your lover.
A swim in the crystal clear blue waters can make you think where you have been taking baths all your life.
12. Farm Tomita in Hokkaido, Japan
As shown earlier, we have made it pretty clear that Japan must be on your list of must-visit countries.
After all, you won't find this type of beauty elsewhere in the world.