7. She Understands The Struggles Of Motherhood
At a young age, she has mastered feeding the baby and watching cartoons at the same time. She also looks like a mom who regrets all her life decisions. 
"Life hasn't been the same since I asked for a baby brother. He's adorable, but at what cost?" They grow up so fast, a little too fast it looks like. 
8. At Least She Didn't Write The Actual F Word
When you are practicing words of the week, and your child remembers one of your favorite words that ends with "uck." She must mean firetruck, obviously.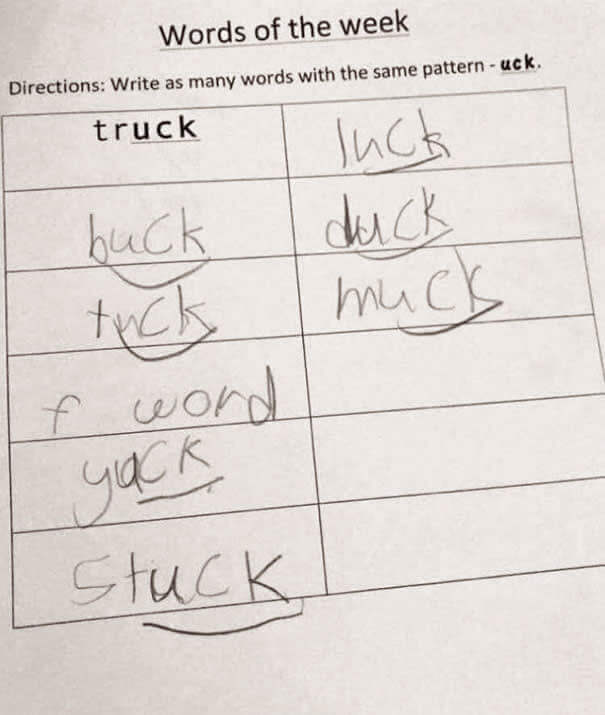 The teacher kind of set themselves up for this one when they asked for "uck" words. Luckily, she didn't write the full word. 
9. Child Saftey Caps Are A Mystery To Children
As a child, the world is full of mysteries, including child safety caps. There are probably children that have figured out how to use child safety locks, but it must be a confusing concept. 
Kids will say the darndest things when you least expect it. They are so funny without trying. 
10. She Thought The Picture Was Her
The picture that came in the frame looked like her so she assumed it was a picture of herself and wanted to buy it. Seems logical. 
Check out her brother in the back, demonstrating some self-love. When you see your reflection, sometimes you can't resist giving it a smooch. 
11. She Clearly Enjoys The Mud
Have a baby, they said. It will be clean, they said. This little girl looks like she spent her day at the park rolling around in the mud. 
It is going to be fun when it is time to clean her up before putting her in the car. She likes to get her hands (and entire body) dirty when it comes to playtime. 
12. And Here Is A Drawing To Prove It
Either they have a really fat dog, or he doesn't know what shape it is. He was creative enough to think the word circle was an option for how to describe your dog. 
Aren't you wondering what his dog looks like now? Maybe it is just fluffy and not fat.